WELCOME TO THE 2016-2017 SCHOOL YEAR
Dear Collegewood Community,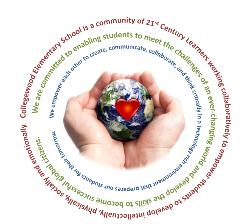 It is with great pride and excitement that I write this letter as the newly appointed Principal of Collegewood Elementary. I feel so fortunate to lead a school with such dedicated staff, amazing students, and supportive families. I look forward to fostering relationships with you and working with the Collegewood staff to provide a nurturing, engaging, learning experience for each child.
The staff at Collegewood Elementary will be focused on creating learning experiences for our students that are rigorous and engaging, positive behavior intervention, and providing exciting and challenging enrichment opportunities for all students. Our entire team is eager and excited to begin what promises to be an incredible year. The Collegewood teachers have been busy all summer long engaging in professional development to ensure they are prepared to foster learning environments that provide opportunities for students to create, collaborate, and communicate while promoting critical thinking.
Technology integration remains a focus for every teacher at Collegewood. We continue to implement a technology rich environment and a school recycling program. Our students have access to laptop carts at each grade level, LCD projectors iPads in addition to our two stationary labs! In addition, we will continue our goal to develop as a STEAM (Science, Technology, Engineering, Arts and Mathematics) school. With the addition of our robotics lab and new Digital Media Center, students will be challenged to use their critical thinking skills to be problem-solvers of tomorrow. In our Digital-Media center, our students will have the opportunity to check our eBooks in addition to the hard-bound books they check out each week. Collegewood students will engage in projects that have real world connections and provide an opportunity to learn how to authentically research solutions to problem-solve. We will continue our school "Genius Hour" in grades 3-5 to enhance the 21st Century Skills of Communication, Collaboration, Creativity, Critical-thinking and Citizenship. Each week during Genius Hour students will have the opportunity to engage in specialized classes like robotics, culinary arts, art, technology, and creativity inspired activities!
This year we will continue to develop and refine PBIS (Positive Behavior Intervention Support). We will continue to support students with behavioral, social and emotional goals. The staff at Collegewood Elementary believes in showing their appreciation for positive behavior and demonstration of our school-wide expectations of: Respect, Responsibility, Readiness, and Resourcefulness (The 4Rs). Furthermore, Students will engage in some service learning projects so that our students learn the importance of helping others in our school and local community.
One of the greatest characteristics of the Collegewood learning community is the genuine care and compassion shared between staff, students, and parents. Collegewood Elementary is a place where staff and families come together to ensure that the children entrusted into our care grow to be productive, confident, compassionate, members of a global society. I look forward to an amazing year!
Fondly,
Mary Wendland

WELCOME TO THE 2016-2017 SCHOOL YEAR